Elk Grove Village Corporate Offices
The Sheraton Suites Chicago Elk Grove is conveniently located in a serene private office park close to many Fortune 500 companies with easy access to I-90 (Northwest Tollway).
Elevate your business travel while relaxing in spacious two-room suite accommodations that offer separate bedroom and living areas equipped with a microwave, mini-refrigerator, work desk with ergonomic chair, two flat-screen TVs & complimentary Wi-Fi. Breakfast, lunch, dinner and room service are available daily from Junipers Restaurant. Enjoy a beverage in our lobby lounge bar. Guests can work out in our fitness studio: Sheraton®Fitness or relax in our indoor pool.
During your stay, additional complimentary amenities such as daily scheduled transportation to/from O'Hare International Airport (ORD) and self-parking are available. The hotel is perfect for meetings and events for up to 200 guests with over 5,000 sq. ft. of flexible meeting space.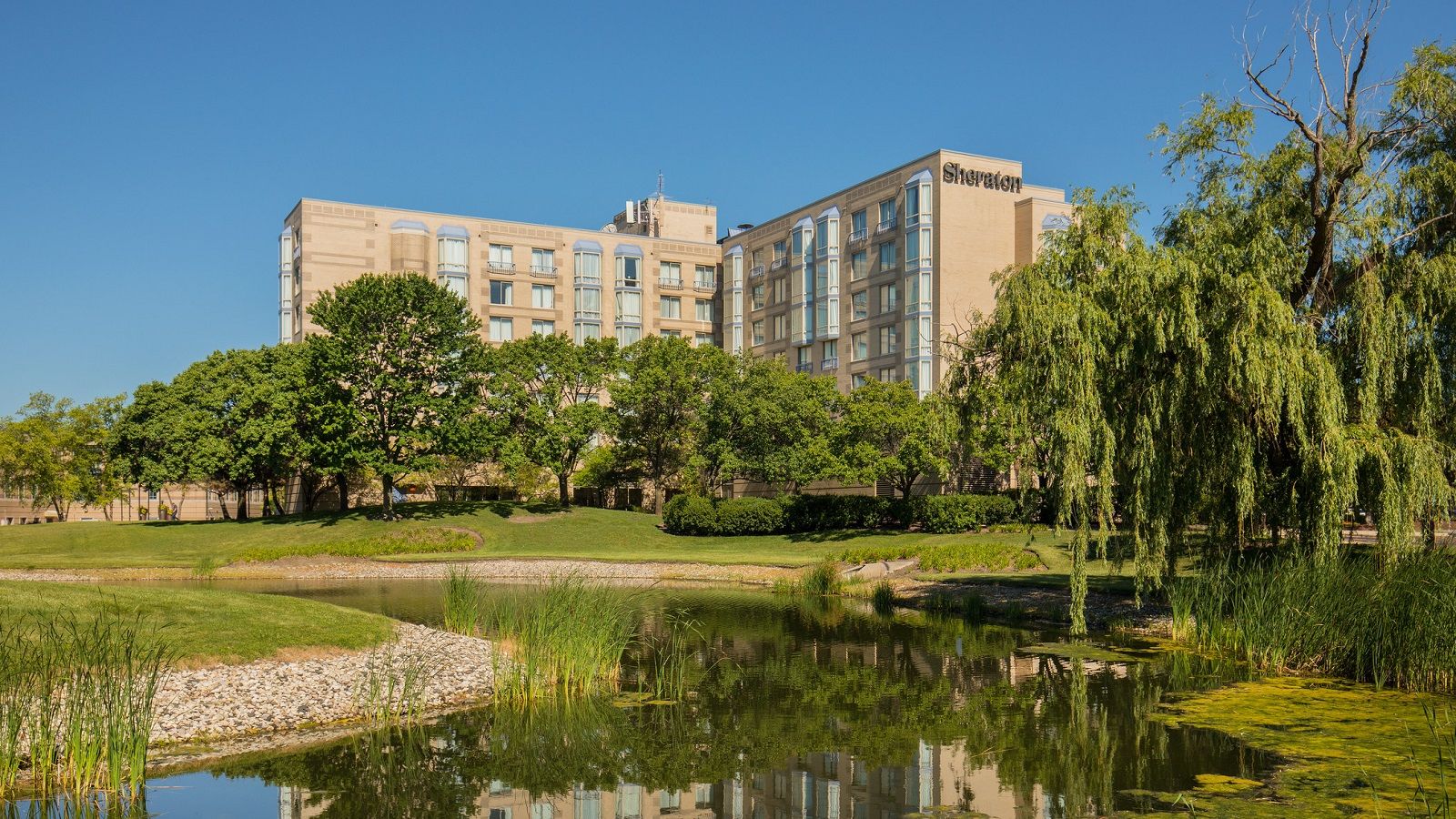 American Academy of Pediatrics 0.1 miles
Citibank 0.2 miles
ADP 0.3 miles
Apple Vacations 0.3 miles
Topco 0.3 miles
Daymon Worldwide Inc.0.6 miles
Tigers USA Global Logistics 0.6 miles
Traction Process 0.6 miles
Kinetek Nidec Motor Corporation 0.6 miles
Merkle-Korff Industries 0.6 miles
Monotype Imaging Inc. 0.6 miles
DKI Commercial Solutions 0.7 miles
Pearson Embanet-Compass Knowledge 0.7 miles
Indium Corporation 0.8 miles
FPE Automation Inc. 0.8 miles
Mitsuwa Marketplace 1.1 miles
Daily Herald 1.1 miles
OSHA Training Institute 1.2 miles
Intertek Testing Services 1.2 miles
Tanita Corporation of America 1.5 miles
Yamada America Inc. 1.5 miles
Travelliance, Inc. 1.5 miles
KGK International Corp. 1.5 miles
Weber Packaging Solutions, Inc. 1.6 miles
HFO Chicago 2.2 miles
Komatsu America Corporation 2.4 miles
Panasonic Corporation 2.4 miles
Verizon Corporation 2.4 miles
Chicago Title Insurance 2.5 miles
Komori America Corporation 2.7 miles
Kuehne & Nagel 2.7 miles
Anritsu Infivis Inc. 2.8 miles
United Airlines Training Center 2.8 miles
Dentsply Midwest 2.8 miles
Wetoska Packaging Distributors 3.0 miles
Weichai America Corporation 3.0 miles
Weiss-Rohlig USA LLC 3.1 miles
Gane Brothers & Lane 3.1 miles
Design Toscano 3.3 miles
Robert Bosch Tool Corporation 3.4 miles
Icon Identity Solutions 3.5 miles
Parker Hannifin 3.6 miles
Thermos Company 3.8 miles
Canon Solutions America 3.8 miles
Amnet Chicago 3.8 miles
Danaher Motion 3.9 miles
Videojet Technologies Inc. 3.9 miles
Boeing Company 3.9 miles
Gas Technology Institute 4.0 miles
Konica Minolta Business Solutions U.S.A., Inc. 4.2 miles
UOP - A Honeywell Company 4.2 miles
IBM 4.2 miles
DeLaval 4.2 miles
Zurich Insurance Group 4.3 miles
Bioblend Renewable Resources 4.3 miles
NTN Bearing Corporation Of America 4.3 miles
The Illinois Institute of Art – Schaumburg 4.6 miles
Canon USA, Inc. 4.6 miles
Kintetsu International 4.8 miles
Nippon Express USA 4.8 miles
Abbott Molecular Inc. 5.9 miles
Motorola Solutions 6.7 miles
Northrop Grumman Corporation 6.8 miles
Dairy Management, Inc. 7.0 miles
LifeWatch 7.0 miles
Ernst & Young 7.1 miles
Phillips Lighting Co. 7.1 miles
Sears Holdings Corporation 14.7 miles